Greentree provides a real-time view across all aspects of your business, allowing you to perform better and to stay ahead
The trouble with most Finance and ERP systems is that they're not truly integrated with other parts of the business.
You'd be surprised at the number of products out there that are just bolt-on bits and pieces or are separate systems with rudimentary integration. They don't properly integrate and some don't even do the simple book-keeping properly.
Greentree is a completely integrated ERP system at the forefront of business management packages; everything is in one system.
When it comes to growing your business there is no such thing as a silver bullet; but we believe Greentree is as close as you're likely to get.
With Greentree your entire team will have access to all the operational intelligence that they require to drive your business efficiently and cost effectively. By automating many of the everyday tasks within your organisation you free up more people for the development of new ideas and improve your decision making.
"Greentree has given us a much closer insight into how our business is performing internally, so we have a much clearer idea of how to achieve what we need to deliver to our customers."
John Hardcastle
Allan Webb
Why Greentree?
At Hoge 100 we have been developing business software for over a quarter of a century and for the last 18 years have been implementing finance and ERP systems. Cumulatively, our consultants have hundreds of years of experience of writing and implementing systems.
The expertise we've gained gives us an enviable ability to accurately assess the needs of our clients and deliver maximum impact with ease and confidence.
We believe that business solution must be prepared for the future, as well as right for today. We design and write our own software as well as being a Greentree Partner, so we can continually meet our clients' changing needs.
We are driven to deliver high impact, straightforward integrated business solutions, which is why we chose to become a Greentree partner.
Greentree is an integrated business system with a comprehensive set of modules. It is an 'out of the box' ERP solution suitable for SMEs and mid-sized businesses.
Greentree's people have a philosophy of working closely with their partners and the team at Greentree put in a lot of effort into making partners feel part of the family.
It was equally important to us to find a business partner that would help us realise our potential and support us well into the future as well as having a first class product. In Greentree we found both so we became a Greentree Partner to boost our business and help our clients.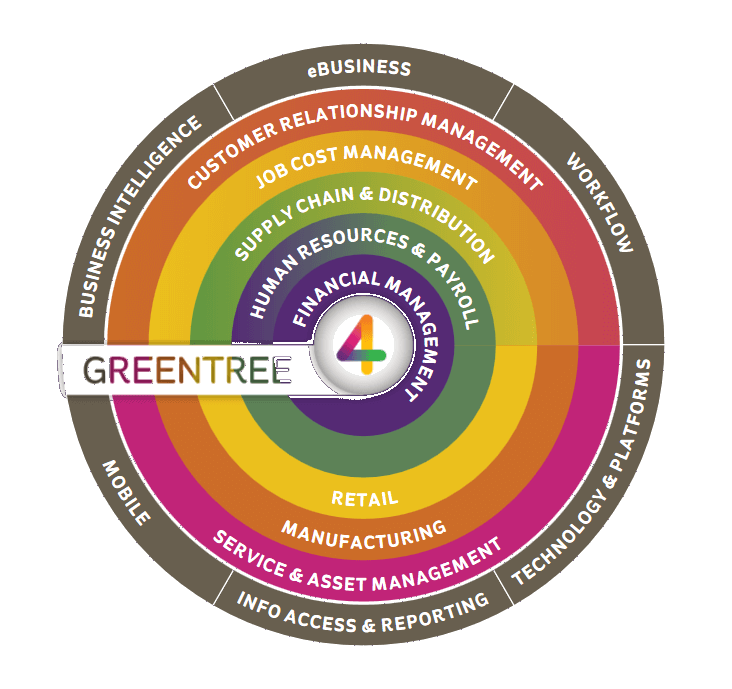 Find out More about Greentree
Service Management & Asset Management
Service management and asset management software ensures that you achieve the highest client-satisfaction levels. You need the ability to take full control of your assets as well as delivering self-service systems for customers and staff to interact with your business online.
Whether you have internal service demands, need to effectively manage the diverse needs of plant and equipment maintenance or you are a service provider needing to meet customer expectations.
Prevent missed service calls
Stop overlooked requests
Eliminate late maintenance
Forestall unscheduled downtime
Avert cost overruns
Deter unbilled service delivery
All processes are automatically integrated with other Greentree modules such as Purchase Order Processing, Inventory Management, Fixed Asset Management and Occupational Health & Safety.
Take control of your organisations assets with Greentree's Asset Management: a complete integrated solution that manages your entire planned/un-planned plant maintenance requirements, from the management of the assets, servicing of the assets, and detailed cost breakdown of owning and maintaining the assets.
Effective asset management
Easily manage multiple asset locations
Track all asset events
Categorise assets into groups as required
Scheduled Maintenance
Ultimate Guide to ERP
Stock and Distribution
We know that wholesale and distribution companies are required to manage increasingly complex supply chains whilst improving efficiency, effectiveness and maximising profitability.
Our clients are from varied backgrounds, including wholesale and distribution industries such as pharmaceuticals, foodstuffs and leather goods. We have experience of implementation of true end-end integrated solutions, including warehouse management.
A good system will help businesses struggling to make accurate stock and inventory forecasts, which result in excess stock or running out of goods. Driving sales and exceeding client expectations is what great stock and distribution management systems are all about.
Improve your on-time deliveries
Greater productivity
Increase your profitability
Real time information at a glance with business intelligence
Our Ultimate Guide to Distribution will tell you much more about business improvement in distribution and warehousing. Please take a few minutes to read it.
Professional Services and Project Control
Greentree delivers better customer service, improves resource utilisation, streamlines invoicing and drives profitability.
Using Greentree you will gain unprecedented visibility into your business across sales, service delivery and finance. You can improve on-time project delivery and project profitability.
Greentree will provide you with a competitive edge.
Tight project accounting
Real-time dashboards and reporting
Faster, easier and more accurate quoting
Improve resource management
Streamline invoicing and billing
Easy time and expense tracking
Capture additional costs
Not for Profit
Choosing the right non-profit management software is critical; As a non-profit organisation, you work in a world where every cent has to be accounted for. You need to have a business system that minimises administration costs and ensures that every part of your business is being optimised. Greentree's visionary approach to managing these complexities for not-for-profit business has been widely embraced around the globe.
Generate and distribute Not for Profit reports easily with Greentree Webview
Core financial ledgers with transaction analysis including budgets
Expense capture and invoicing with Greentree's project costing
Fully integrated Excel reporting by clicking a button
Integration between other systems via Data Import Manager
With Hoge 100 and Greentree you will be sure you've got the clarity you need to reach your business goals.